A Note from Cousin Deborah
(November 2, 2010)
On behalf of Richard, myself, our sons, their wives and our grandson, I want to thank everyone for the beautiful letters and cards you sent to Mom before she passed away. Hearing from you was yet another example of how Bruce Dumes and his phenomenal family website keeps us all in touch. The pictures some of you included with your cards were terrific. Mom loved hearing from all of you.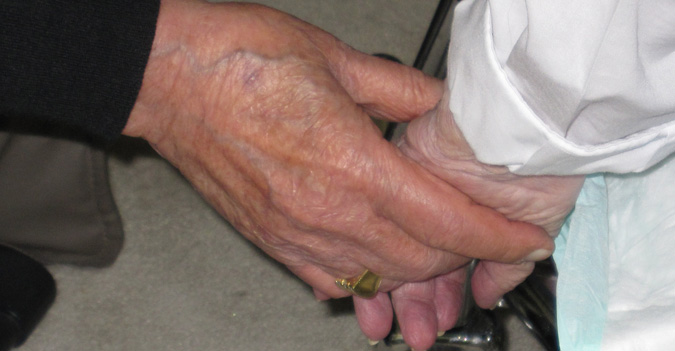 Anybody who knew my parents knew how my Dad was always cuddling with my Mom. They started in separate places in the room but always ended up in a heap on the couch -- as though they were one person. He just loved to touch her and take her hand. I grabbed this shot early in October -- the first time I ever saw my Mother reach out and take his. -DZA
Florida is a beautiful place to age. People in Florida welcome the elderly and respect them even in the most final of moments. We have been asked what caused Mom's death. In reality, Mom was in kidney failure at the time she was diagnosed with lung cancer this summer. It was the kidney failure that made her ineligible for treatment of any kind and it was the kidney failure that ultimately took her life.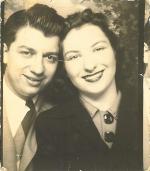 It was consoling to know that Mom was cared for in death by those who truly know the rituals of a Jewish burial. It did all of our hearts good to have her memorial service close to Mom and Dad's home of a quarter century so Dad could attend the services for his wife of 68 years. He enjoyed being visited by local friends and family who came to my parent's home to see him after the service.
We were touched to learn that so many of you planned to travel to Indiana for graveside services for Mom in our childhood home. Knowing that Cyril-Ann and Reid were going to Terre Haute, we stayed behind to be with Dad and take the necessary steps to insure his ongoing care would be seamless. We are grateful that the wonderful care-giver we found for Mom will carry on for Dad. Mom was always painfully worried about what would happen to Dad if she predeceased him. We know she would be relieved to know he remains in such good hands.
We hope you will continue to be in touch with Dad because he enjoys hearing from the family and knowing that people are thinking of him.
In closing I also thank you for your outpouring of love and kindness.
Warmest wishes,
Deborah