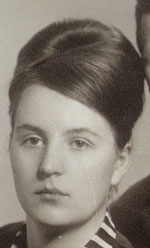 Raisa Dumesh
The life of
Raisa Dumesh
as told by her sister, our dear cousin Julia. I hope my translation does her justice.
Raya (Raisa) lived with mum and me until 1960, when she left for Russia to stay with Aunt Tsilya. There she finished middle education and enrolled in the Institute. From the institute she received a room in a dormitory and moved there. After she finished 2 years of study she married her classmate Vasili. They went to Leningrad to continue their studies. After completing the institute they were directed to work in the north, in Murmansk. There in 1968 was born their daughter Valentina and in 1972 a second daughter Elena. In 1974 Raya and her family moved to Daugavpils, so we again found ourselves together. My sister and her husband worked as engineers in a construction organization. Everything was wonderful! But in 1987 Raya began to fall ill; she had problems with her stomach. Doctors examined her and found cancer. Raisa had an operation and she died seven days after the operation of a thrombosis. Valentina was already married with a 2 year old daughter Svetlana. Elena was 15.

My mum was not able to cope with this and in 1989 she also died. In 1989 Valentina gave birth to a second daughter Olga. Everyone was happy with the child, but she seemed unhealthy. Valya (Valentina) also became ill after giving birth. She was partially paralyzed.

Valya had studied for a while at the Teacher's College in the 2nd course. But because of her illness she left the institute with no education and no job. Now she is disabled in the second group. Olga has also been disabled through her childhood and uses a wheelchair. Valentina's husband left her. She lives alone with Olga.

Elena was married, and her husband is named Sergey. He is a builder. They have a son Nikita who is 10. Elena works as a teacher in a trade school, where she herself studied.

Svetlana, daughter of Valentina, was married. Her husband is Sandris, who is 23. She studies in the 3rd course at the institute, to be a general manager for tourism. On January 8 2008, Svetlana had a son Artyom.

Olga has finished middle school, 12th class. Teachers had to come to her home.

This is everything about the family of Raisa. We were very friendly and it was a big loss for me.
Thank you Julia, for sharing these memories with all your cousins in America.