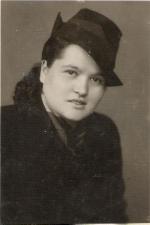 Tanya Dumesh
Tanya
(Yiddish name Traina) Dumesh was born March 1, 1919 in Viski, a small Jewish village or "shtetl" in Latvia. She was the oldest of four girls -- the others were Tsipa-Lea Dumesh, called Tsilya, born July 7, 1920, Liba, called Lyuba, born June 10, 1922 and Doba, born May 28, 1924. Their father
Nota
and mother
Ginta-Jocha
were also born in Viski. According to the census of 1935, they lived at Aglonas St. 76.
Tanya's father Nota was born in Viski on May 07, 1894. He was a glazier, as were many of the Dumesh men in Vishki. Nota's father Jossel-Leib (or just Leib as he called himself in the 1897 census) born in 1865 was the 2nd of three sons of Wulf Dumesh, born in Viski in 1839. Leib's older brother was Chaim Yehushua Dumesh. Chaim died in 1904 at the young age of 44, but his wife and children emigrated to America between the years 1904 and 1912. Leib's younger brother Schender was born in Vishki in 1867.
Tanya's grandfather Leib married Sora-Feiga Hodosch, born in Viski on April 30, 1866. They had five children, all sons: David, born in 1889, Israel, born in 1891, Nota, born in 1894, Wulf born in 1898 and Jacob, born in 1902. Wulf died as an infant in 1900 of consumption or TB (Чахотка on the death certificate). Leib, like his brothers, was a glazier.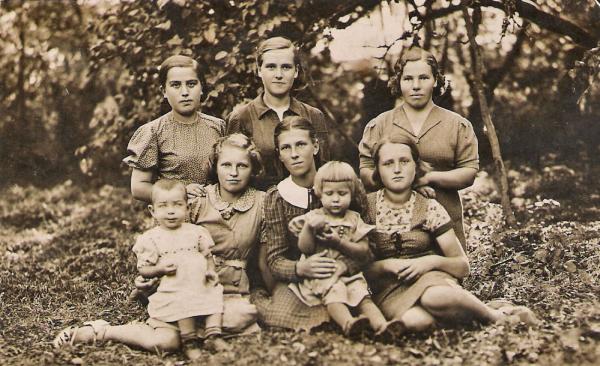 During the 20's and 30's, many young people looking for work began to leave Vishki and heading to the big cities like Daugavpils (formerly Dvinsk -- it became know as Daugavpils after Latvian indepence in 1919) and Riga. And so in January 1941, Tanya Dumesh left her home in Vishki for Riga. She found work there in a knit fabric factory. She was able to find an apartment and in the spring her sister Tsilya joined her and found work in a war factory. In June the war reached Riga. Tsilya was evacuated along with others in the factory, and Tanya was able to escape with her landlord's family.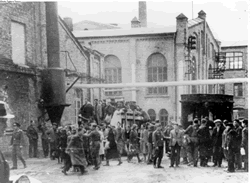 It was an arduous and perilous journey, at times on foot and sometimes on freight or cattle trains with bombs exploding around them. Tanya and Tsilya lost track of each other. Tanya finally found safety in the Ural mountains, 1000 km or more from Viski. Tanya met Dmitry and in 1944 they had a baby girl named Raisa. Dmitri died before the end of the war, and Tanya was once again on her own.
In 1946 she was reunited with her sister Tsilya. Tsilya was working in the War factory in the Urals. She decided to leave the Urals, but Tanya stayed behind.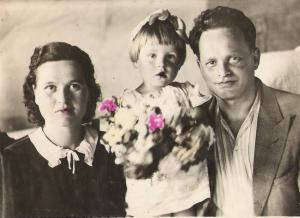 In 1947 she met Semyon Macevich from Leningrad who had been exiled during one of Stalin's purges, and was living in the Urals. They were married, and in January 1948 the period of exile was over.Semyon's family urged them to return to Leningrad. Their happiness was short-lived, however, because on January 21, Semyon died of a heart-attack. Tanya was once again left alone with a 3 year old and another baby on the way. Tanya buried Semyon in the village of Vacha in the Urals and left for Leningrad to have her baby. Tanya gave birth to Julia in May 1948 in Leningrad.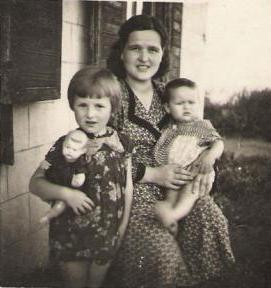 After Semyon's death, his family told Tanya that they could not help her. She had no where to go, so with a baby and a toddler she decided to return home to Viski.
Tanya's two sisters, Liba and Doba were killed along with their parents in 1941 in Vishki, along with most of the other Jewish residents. She had no family left, and two young girls to raise on her own, but the people of Vishki helped her as they could, and Tanya was a strong and spirited woman. There was little work, so even making enough money to buy food was difficult.
In 1955, Tanya began working a sewing workshop in Vishki, in the house (pictured on the right) that had once belonged to her Uncle Israel. From 1948 until 1957, Tanya and her daughters lived in a rented house, but in 1957, the government gave her a room in her Uncle's house. In 1962 Tanya was given an apartment of 11 meters with a common kitchen in a three story building. At this time she worked as a nurse in the hospital. The hospital was in Boris Usdin's house in Vishki. There she lived until the last days of her life.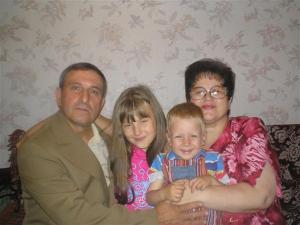 Tanya's youngest daughter Julia lives in Daugavpils, Latvia with her husband Leonid. They have two married daughters, Tanya (named for her grandmother) and Marina and four grand-children. Julia's sister Raisa married Vasiliy Gorelik and had two daughters. Raisa passed away in 1987.
To see more pictures of Tanya and her family, click here.

A few of you have asked how they feel about their Jewish heritage. Julia's daughter Marina put it this way:
Our present family is mixed. There are Jews, Russians, Byelorussians and Poles. But I'm very proud of my Jewish roots. I went to the seminar for Jewish young people in Israel in 1995 and I have many friends in Israel. And it's a great and pleasant surprise for me to have relatives in the USA!
This history comes to us from Julia. Thank you, Julia, for sharing these memories with us.