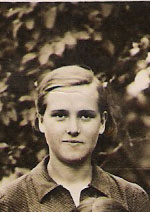 Tsipa-Lea Dumesh
The life of
Tsipa-Lea (Tsilya) Dumesh
as told by her niece, our dear cousin Julia. I hope my translation does her justice.
I am writing you about the life of my Aunt Tsilya. Until 1941 she lived in Vishki. In the spring, my mum brought her to Riga. Tsilya found work in a war factory. When the war started, Tsilya evacuated with workers from the factory to the Urals.

Until 1944, mum didn't know about her destiny. But in 1944 she received a letter from their mutual friend in Vishki. Their friend was named Marfa Rodionova. It turned out that she wrote with Tsilya. Marfa gave mum Tsilya's address. It turned out that mum and Tsilya during the war years lived not far from each other. So mum found her sister.

By that time mum already had little Raya, my sister. In the Urals, Tsilya met her Aunt Sara, who had evacuated from Russia to the Urals with her family. Aunt Sara was the sister of my mum's mother, Ginta-Jocha. Aunt Sara had three children, a son Anatoly, daughter Inna, and daughter Zina. When they sent letters to my mum, she invited them to live with her. Aunt Sara worked as a teacher in the school, Tsilya at the war factory, and Mum got a job working as a dressmaker in a garment shop, where she worked until April 1948.

Aunt Sara introduced my mother to Semyon, my father, who at the time was in exile from Russia and working in a shop. They loved each other and decided to marry in Leningrad, after father's return from exile. But destiny thought otherwise. On January 21, my father died.

Tsilya with Aunt Sara and her family returned to Russia and until marriage Tsilya lived with her family and worked in military enlistment. Because at that time life for Jews was especially hard, Aunt Sara and Tsilya changed their passport information (I don't know exactly how they did it!). They changed the line for nationality to Latvian. This was their secret.

In 1956, Tsilya was married to the brother of a military unit commander. Accordingly, she was unable to tell him the truth about herself. In 1957 they had a son Anatoly. (My mum with Tsilya, secretly knew that he'd been named after their father Nota)

Aunt Sara died and her children left, we don't know where. Tsilya lived with her husband Sergey for 40 years. Uncle Sergey is alive now, but very ill. His son Anatoly is married, and his wife is named Lydia. They have a daughter Tanya.
Thank you Julia, for sharing these memories with all your cousins in America.