Dumes family reunion: June 24-26, 2011 Raleigh, North Carolina
And now, a message from reunion organizer, cousin Art Lieberman. Take it away, Art!
Our 2011 Dumes Family Reunion - What an incredible, joyful and fun weekend we had! It was a blast!
Seventy-five of us gathered in two side-by-side hotels. Several of our cousins arrived early, and enjoyed a Segway tour of historic Raleigh. The Lieberman branch of the tree, 31 of us, gathered a day early for our own mini-reunion.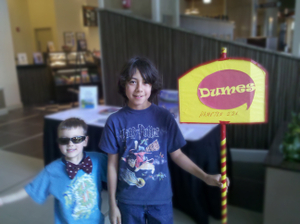 Nathan and Stan Lieberman
Friday evening was our ingathering. A delicious dessert bar tempted many of us. It was so wonderful seeing family reconnect, and for some, connecting for the first time. You could feel the energy in the room.
The evening's presentations focused on our heritage and celebrated the lives of those who came before us. In honor of our shared Jewish roots, Ruth Fishman Zimbler, Stephanie Lieberman Yusman, and Lynn Lasky Lundin lit the traditional Sabbath candles. Jaellayna Lasky Palmer read a prayer in recognition of our many chosen paths. And many of us lit virtual candles to remember loved ones.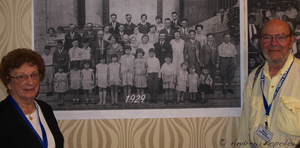 Ruth Zimbler and Harry Lieberman
Gigantic group photos from the 1929 reunion and the 2006 reunion covered the walls. And now we have a photo of the 2011 reunion. Take a look at the 1929 photo. Note the two children in the first row, one on the left end and one on the right end. Now look at the 2011 photo , but this time note the second row, left end and right end.
They are Ruth Zimbler and Harry Lieberman, who attended both reunions, 82 years apart!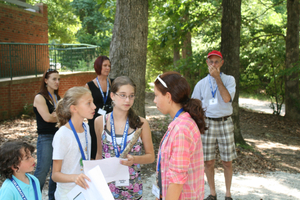 Wyeth Karp, Jennifer Dumes, Addison Dumes, Kim Dumes, Jordan Hall, Lisa Lieberman, Mike Dumes
Saturday morning brought us great breakfasts at both hotels, and a lot of chatting. Then around noon we gathered for a picnic at Durant Nature Park. The weather was perfect! We played games, and talked, sang songs and talked, took walks and talked, played in the ball fields, enjoyed a great picnic lunch, and talked some more!
And we video-taped some family histories. *[ Bruce's note: thanks to my niece Tracey and her son Jacob for their efforts in doing the interviews! ]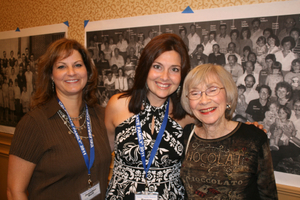 Jennifer Hall, Tracey Carson, Phyl Dumes
Saturday evening was "the big event, " gathering for dinner and presentations. Cousin Bruce Dumes presented a video about his trips to Latvia researching our family tree. We "auctioned" off a lot of fun trinkets. And we had a few other activities planned to help us get to know one another a bit better.
Bruce and I had worked for months preparing a big surprise and keeping it secret – and it almost didn't happen! At the end of Bruce's presentation on our family history, we had arranged to introduce three of our cousins, live via video Skype, from Latvia and England.
Bruce had discovered them in his family tree research, and he went over to Latvia in 2007 and 2009 to visit them and do further research on our family. After his visits, two of the cousins moved to England (in separate homes). We wanted to bring them to the States for the reunion, but it just didn't work out.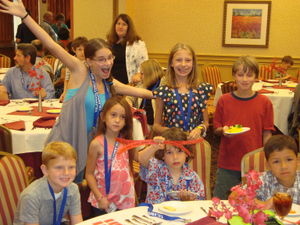 Jordan Hall, Addison Dumes, Andrew Hall, Abe Dumes, Kadin Harper, Wyeth Karp, Garrett Davis
So, we arranged to have a video phone call with them (via Skype) during our Saturday evening gathering. Then at the last moment, we couldn't access the Internet in our banquet room!
After a bit of panicking we did get it going... Bruce gave his presentation on our family history update, and then... we projected our three cousins up on the wall, bigger than life! It was the wee hours of the morning for them in Latvia and England, but they were as excited as we were.
We chatted with them, and then they sang a song to us, all together, from different spots on our planet. Everyone was cheering! I had tears in my eyes, as did many others. For me, it was absolutely the highlight of the five years since our previous reunion.


If you click on this photo, you can watch our long-distance video chat.
This new div will be replaced
Sunday was full of good-byes. To keep the good times rolling, some stayed to go to a Durham Bulls baseball game Sunday evening and left town on Monday. But it was difficult watching various groups of cousins leaving throughout the day, letting go. It was an amazing weekend, full of memories that will last forever.
At our 2006 reunion, it was agreed that we would continue our gatherings every 5 years. So, the reunion didn't end on June 26, 2011; we're just taking a break until June of 2016.
I want to remind everyone that some of our cousins will no longer be with us when we next gather. And, of course, we will have new members of the next generation to welcome. The value of family is so great. Each of us is made - literally - of those who came before us. It is with our reunions that we keep our ancestors alive through our memories, and enjoy our amazing extended family. I know I value the connections I've made at the reunions, and I keep up with quite a few new cousins now. It's made a difference in my life.
See ya' in 2016!
Cousin Art Lieberman
---
It's Bruce again. I'm not accustomed to having guest writers here! But I think I like it!
Thank you, Art, for your incredible work in making the 2006 and 2011 reunions happen. You are an amazing guy. It has been such a joy to have become friends after decades of not knowing anything about each other, with the only thing connecting us being all the Mad paperbacks you lent me in 1969.
Thanks also for letting me off the hook about the paperbacks, by the way. :-)
We've collected photos from many folks who attended the reunion and put them in a special "collection" on the family photos page. You'll need to be logged in to see the photos, so contact me (Bruce) if you've forgotten your login info.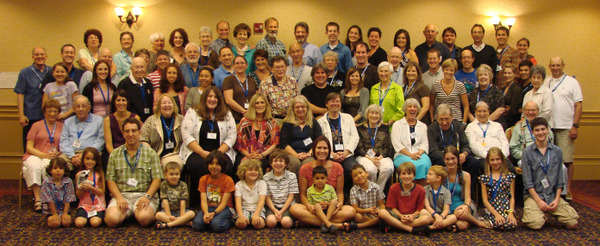 Here's who came!
Lila Kaplan
Charlie Kaplan
John Karp
Elizabeth Hautau Karp
Ben Barrett Karp
Wyeth Aaron Karp
Dana Baumrind Karp
Adam Rudy Karp
Christopher Mayes Hall
Jennifer Lynn Finkelstein Hall
Jordan Mayes Hall
Andrew Hale Hall
Beverly Faye Karp Mahone
Tom Mahone
Rose Dumes
Mike Dumes
Linda Saunder Dumes
Kimberly Dumes
Gavin Antonio Davis
Garrett Michael Davis
Melissa Dione Massie Dumes
Randy Dumes
Addison Rae Dumes
Abraham Garrett Dumes
Jethro K. Lieberman

Jo Shifrin
Ellen Wegusen Lieberman
Ed Lieberman
Mary Klipsch Macgregor
Philip Laron Lieberman
Stephanie Fay Lieberman Yusman
Scott Alan Yusman
Art Zale Lieberman
Pat S. Clark
Lynn Lasky Lundin
Matthew McCall
Melissa Kopolow Kopolow McCall
Andrew Kopolow
John Palmer
Jaellayna Lasky Palmer
Caroline Hart Lieberman
Harry Stanley Lieberman
Andy Lieberman
Tomasa Tomasa Bulux
Lisa Caroline Lieberman-Bulux
Stan Lieberman-Bulux
Jennifer Ross Lieberman
Norman Lieberman
Jayna Lieberman
Nathan Andrew Lieberman

Jennifer Rachel Dumes
Kadin Abigal Harper
Al Zimbler Zimbler
Ruth Fishman Zimbler
Sharon Schultz Miller
Stacy Ann Miller Yeater
William Joseph Yeater
Beth Holst Tockman
Mel Tockman
David Andrew Tockman
Janet Tockman Kernis
Marty Kernis
Ariel Fern Kernis
Sonja Pieck
Phyllis Ann Abels Dumes
Marsha Rose Bradford
Harold Arthur Dumes
Abby Anne Dumes
John Millet
Hannah Rose Dumes
Philip Crouse
Tracey Lee Simmons Carson
Jacob Michael Carson
Bruce Anthony Dumes
Debra Lee MacLaughlan-Dumes
Jeffrey William Dumes